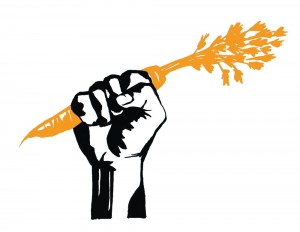 The People's Kitchen aims to provide locally grown, seasonal and nutritious food at affordable prices. We aim to cook food in bulk at our unit near Bridie's Yard to reduce the energy & costs involved in making delicious, nutritious food, making local sustainable food available for all.
Modeled on the Three Stone Hearth and Volks-Küche of Germany, we aim to sell produce online, via local food co-ops and from our unit. We also aim to make the food processing space we develop available for people to use.
We are also seeking to start a volunteer collective that can use produce donated to Feed Avalon to make hot, fresh meals on a regular basis for donation only.
With welfare reforms & growing inequalities, we are taking the feeding of our community into our own hands. We don't want a single family in Glastonbury, Street or surrounding areas going hungry and will aim to feed each other through mutual aid & solidarity while working for the social change necessary to ensure there is no such thing as food poverty.
If you're interested in getting involved in the People's Kitchen Collective, please contact us.