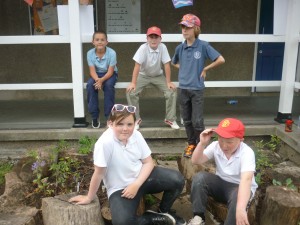 Feed Avalon is a Social Enterprise dedicated to developing food systems that are socially an economically empowering in order to build food resilience in Glastonbury, Street and the surrounding areas. We are a workers co-op who design and implement projects to accelerate socially ecologically sustainable food production, organise events, run courses, network with others to build a movement to reclaim our food system locally and globally.
The Let's Grow project being piloted at Elmhurst Junior School in Street is one such project.
It is an holistic experience  of oportunities of sharing, learning, growing feeding and connecting.
The aims of the project are to set up sustainable, long term growing projects within our local community, adapted to the needs of each group.
We reclaim as much material from our local environment for our project, cutting down on waste, involving local businesses, parents of the pupils at school, and our local wider community.
Growing & learning
The project encourages learning and sharing of skills and ideas; working alongside others and together; gets our pupils outside in all weathers, learning about the soil web, composting, building, sowing, planting, nurturing and eating the produce.  These all link to health and fitness as well as language development and enrichment in general.
Each class has a 2 hour workshop learning about the soil web and importance of every thing on this planet, looking at soils under microscopes, playing a game and ending with some fun songs. Then the following 5 or 6 weeks, approximately 6 pupils are selected to build a raised bed, tidy up around the school garden, make compost and plant up the finished bed ready for the whole class to then take responsibility for it with their teacher.
What we have achieved so far
So far we have revamped our stone bed, adding in several keyholes so the children can reach all the way round, this is a mixed bed that is becoming established and still has colourful flowers in it this year.  We had lots of branches and trunk from a tree that had to be taken down and have built 3 beds out of those, one has lots of tomatoes that have just died off, and herbs planted in the gaps, like rosemary and creeping thyme, one is planted up with onions and garlic, and poached egg plant, the other has raspberry canes we cut back, some gooseberry cuttings and some winter salads.
We are in the process of building one out of old pallets donated by a local business/parent of pupil, this one will be planted up with lots of salads, spring cabbage, kholrabi, rocket, mizuna and lots more, then later in the year we will put herbs into the pallet gaps round the sides. We have a new archway from a donated broken gazebo and we have planted yellow jasmin and transplanted a passion flower from elsewhere in the school.  We have build a leaf compost area out of old pallets too.  An earlier project was to re roof our little shed with up cycled juice cartons, we painted a blackboard on one side and painted the rest a lovely purple which our latest raised bed has also been painted in too.
The Let's Grow Project is co-ordinated by Karen Chard.