Practical Information
What: A weekend to share our passion, knowledge, and skills for building healthy soils
When: 27 – 28th May 2017 (arrivals welcome Friday evening)
Where: Brook End LAND Centre, Compton Dundon – near Street and Glastonbury in Somerset
How to book your place: Please email eat@feedavalon.org.uk
**Please note we close for bookings at midnight on Sunday 21st May 2017 due to limited capacity at the site and catering preparations. Please ensure you book before this date**
Cost: The Gathering is a not-for-profit event with financial support to enable access and participation. Contributions are sliding scale between £25 – £125 for the weekend including meals and camping. For folks who cannot afford the lowest rate, please let us know and you can be allocated one of the free places. For individuals coming from Universities, Businesses or other Professional Organisations, we hope you can pay the top rate. All costs will be transparent and we will invest any surplus generated at the event for a starter fund for SoilHack related initiatives.
Programme
Please find a provisional timetable below. Please note the programme is subject to change because the gathering is dynamic and adaptive. There are two spaces available for self-organised sessions and emerging themes, and people are welcome and encouraged to self-organise throughout the gathering.
Click here to read more about the workshops and some of the people facilitating sessions.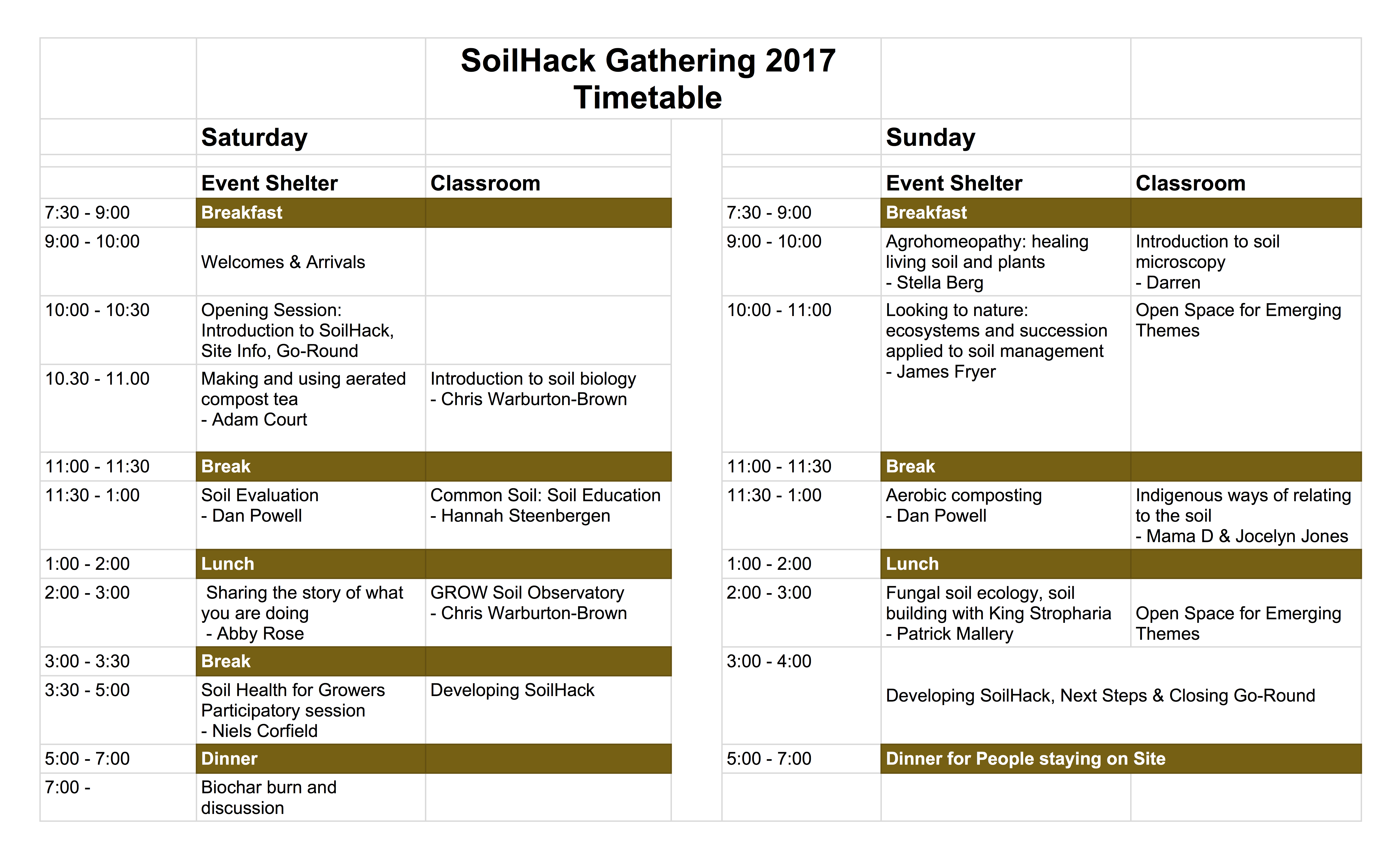 About SoilHack
SoilHack was set up to provide a space for people to collaborate in sharing information to help us both better understand our soils and improve their health, having been inspired by the DIY spirit of the FarmHack movement. More details here: http://farmhack.org/wiki/soilhack-wiki
Over the past few years we've been seeing an increasing number of people sharing stories of how they've transformed their soils (and in some cases workloads) through applying novel methods: no-dig, cover cropping, biochar, agroforestry, etc etc. This struck us as significant, given the current horrific rates of soil depletion, and the game-changing role that soil carbon could play in regenerating the biosphere.
The challenge, especially for people who are full-time producers, is to somehow get a toehold on the growing body of soil research which helps one understand why these practices work, as well as getting a sense of how they'd be relevant in our own situation. Our response to this has been to try to create a self-organising network for sharing knowledge.
Up until now we've done this through collating good resources on our wiki, running a soil events email list and a Twitter account, and presenting at Farm Hack events. In truth, SoilHack has yet to develop in the direction that we'd hoped it might, which is to harness the enormous potential of peer-to-peer learning and skill-sharing. With this gathering, that's about to change!
We're inviting you to contribute your experience, insight, and curiosity to this effort so that we can begin to rapidly grow our collective intelligence, and in turn, all become its benefactors. This knowledge needs spreading and putting into action fast.
About the Gathering
We will be all learners at the gathering. It is a DIY event and everyone will need to play a role in helping the gathering run smoothly.
We are asking people to email us in advance with offers of workshops. We expect sessions to be participatory, science and evidence-based, and practical where possible. We can support you with designing a workshop if this is new to you.
There will also be space on the programme for self-organised workshops and sessions that arise as needed and relevant over the weekend.
As well as practical workshops, there will be time set aside for discussions and strategy sessions on how to build the SoilHack Movement.
How to offer a workshop
Please make sure you have emailed eat@feedavalon.org.uk to book your place at the Gathering.
Please email your workshop idea to soilhack@openmailbox.org
Please tell us:
A bit about yourself & interest in SoilHack
A synopsis of your workshop
What space and equipment you might need e.g. projector
If there is a maximum number of people for the activity
Any support you need
Please note no one is paid for giving workshops at the Gathering. All of us contribute. If you need financial support to participate, please let us know when booking.