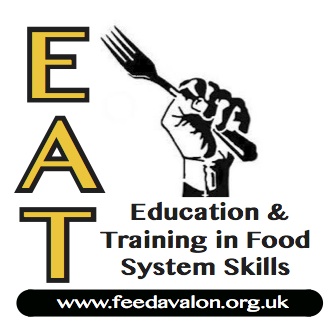 The EAT Project is Feed Avalon's Education and Training in Food System skills popular education initiative.
We organise courses, workshops, skill-shares and events to support all of us gain the skills to reclaim our food system.
We organise community-based learning to support local communities in Glastonbury and Street to gain the skills, confidence and opportunities to engage in the production, distribution and consumption of local food that is healthier, more sustainable and rooted in social justice.
Our courses are participatory, practical and political in nature. We are working for social change and always aim to link practical skills with the bigger picture. We aim to organise educational opportunities that are accessible.
Somerset Skills and Learning kindly fund a number of courses and opportunities. We also organise private paying courses as a cooperative to help generate a surplus income that we can re-invest in our grassroots work.
The EAT Project is coordinated by Nicole Vosper. We regularly work with external tutors, if you are interested in facilitating a course or workshop for us, please get in touch. For any course inquiries or project information please email nicole@feedavalon.org.uk
Taking place in 2017:
Cooking with Nuts and Seeds – Learn about how to cook with nuts and seeds in this one-day course! We will be sharing wholesome, plant-based recipes with seeds and nuts being the principle ingredients. The course will cover seeds and nuts culinary uses from nutrition to flavour. | Saturday 18th February 2017 | http://www.feedavalon.org.uk/nutsandseeds/
Grow Your Own Garden – A series of workshops about how to get started in growing your own food. The course will cover how to build raised beds, compost making, seed saving and sowing, fruit tree grafting and other forms of propagation, as well as basic design and planning to make the most of your garden. | February & March 2017 | http://www.feedavalon.org.uk/grow-your-own-garden-course/
Cooking Basic Essentials  – Join us over 4 weeks for a series of making common store bought foods from scratch. Come learn and share how to cook everyday foods and dishes on a budget. Using organic, plant-based ingredients in a relaxed welcoming workshop.| March & April 2017 | November & December 2017 | http://www.feedavalon.org.uk/basicessentialsnov/
Vegan Baking  – In December we will be holding a class for making cakes, biscuits, pies, and bread! We will be baking without refined sugars and using gluten-free flours- offering an alternative to the usual overindulgence at this time of year. | December 2017 | http://www.feedavalon.org.uk/veganbaking/
Introduction to Fermentation – In the workshop, you'll be rediscovering the old methods of preserving food. We'll be preparing, making and tasting fermented foods from all over the globe; a variety of sauerkrauts, kimchi, sourdough bread and more. | Saturday 25th November 2017 | http://www.feedavalon.org.uk/fermentationnov/
Health at Every Size – This 5-week course offers a new and compassionate approach to weight and well-being, shifting the focus away from the frustrating pursuit of weight loss in favour of self-care and developing long-term healthy habits. Over 5 sessions, we will explore nutrition, and building a positive relationship with ourselves and with food, in a friendly and supportive group. | 1st March – 29th March 2017. Every Wednesday 10am – 12pm | http://www.feedavalon.org.uk/healthateverysize/
Nutrition Day School – This day school will explore the links between food, health and well-being, demystifying nutritional concepts and science, and emphasising a sustainable and pleasurable approach to feeding ourselves. | Thursday 30th March 2017 | http://www.feedavalon.org.uk/nutritiondayschool/
Polytunnel Growing – A hands-on practical course covering all aspects of polytunnel growing- crop choices, crop rotation timing and planning, fertility, watering/irrigation, disease and pest control (including slugs!), propagation, planting sowing, harvesting, and use of space around the outside of the tunnel. | Wednesday 3rd May 2017 | http://www.feedavalon.org.uk/polytunnelcourse/
An Introduction to Herbalism – A two-day place introducing herbalism and plant-based medicines. | Dates TBC | Full details coming soon.
Weekend Foraging Course – A weekend course introducing the art of wild food foraging. This course will cover foraging safety, plant identification, habitat-care and responsible foraging, as well as an introduction to multiple wild edibles. | Dates TBC | Full details coming soon.
Soil Hack Gathering – The first national SoilHack Gathering is taking place this summer at Brook End LAND Centre just outside Street (near Glastonbury) in Somerset. We invite you to come to contribute your experiences, share good ideas and learn about soil regeneration. | 27th & 28th May 2017 | http://www.feedavalon.org.uk/soilhack2017/
Vegan Permaculture Design Course – A 10-day course delivered in 2 x 5-day blocks, taking place outside Glastonbury at Feed Avalon's Education Centre, Brook End. A comprehensive course introducing permaculture ethics, principles and design methods. With Graham Burnett and Nicole Vosper from Feed Avalon. | Sat July 1 – Weds 5th July 2017 & 5 Aug – Weds 9th Aug 2017 | http://www.feedavalon.org.uk/dates-announced-for-full-permaculture-design-course/
Past Courses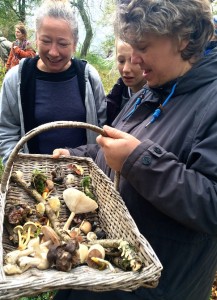 Below are past courses that are likely to be organised again. Contact us with your potential interest & we'll do our best to make them happen:
Avalon Abundance Course – A series of practical workshops on harvesting, storing & preserving food | October & November 14/15
Fruit Tree Care & Pruning – A one day course introducing how to care for fruit trees, including practical pruning principles and techniques. | February 7th 2015
Nursery Course – A weekend course introducing how to start your own plant nursery, led by Neils Corfield of Edible Cities | 14th & 15th February 2015
Seed Saving Course – A practical course on the techniques and science of seed saving. There will also be a session on seed sovereignty & the politics of seeds. | 28th February 2015
Introduction to Permaculture – A weekend course introducing the ecological design science, permaculture, and its basic ethics, principles & practices. With Graham Burnett and Nicole Vosper from Feed Avalon. | 23rd & 24th May 20
Food Sovereignty School – A 3-day course introducing the 6 principles of food sovereignty and popular education | October 2015
Mushroom Identification & Cultivation – A 3 – course introducing mushroom identification and cultivation | November 2015 & October 2016
Growing to Sell – A two-day course that introduces market gardening and growing food and plants to sell. | 2015 & 2016
Planting for Pollinators – This one-day course explored which plant families are useful to pollinating insects & how to make your growing space more pollinator-friendly.

Soil School – A weekend course in DIY strategies for soil care, including mycorrhizal applications, no-dig, composting, biochar, soil food web & more | July 2014, June 2015 & March 2016
Pond Design & Construction Course – A one-day course exploring pond design principles and practical construction. The course took place at Avalon Wildflower Park. | Monday 4th April 2016
Plant Identification Course – A one-day course in basic botany and plant identification skills | July 2016