The 'Growing Glastonbury' Project will promote food growing in and around Glastonbury, bringing together experienced gardeners to support people new to growing, or those who would like to grow more vegetables and fruit, to share skills, to eat well, save money, be active, make new friends, connect with nature and contribute to local food security. Local growers will produce food in community growing spaces as well as individual gardens.
Become a Growing Mentor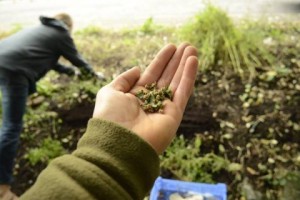 Growing Mentors are volunteers with experience and passion who want to share their food growing skills and knowledge. As well as supporting individuals and families in their own gardens, Growing Mentors will be encouraged to attend community events, talks, schools, groups and to write articles, take photographs or make use of any other skills that help spread the buzz about food growing and bringing people together.
Mentors will provide tips, inspiration and advice as needed over a 12-month growing season. We are looking for people with at least two years food growing experience and willing to promote environment-friendly, organic methods, with minimal use of man-made chemicals.
Mentors will be supported by a Project Co-ordinator and will benefit from regular training in food growing and will learn coaching techniques and gain confidence in working with new food growers. Previous mentors, under the Garden Organic Master Gardener's scheme in Somerset, have gone onto further training and community food growing work.
Applying to be a Growing Mentor
We are currently recruiting new mentors. There is a short and simple application form, available online here – Growing Mentor Application Form, or for details please get in touch with Carol Stone, carol@feedavalon.org.uk, mobile 07552975778. The next induction training weekend is Saturday 17th and Sunday 18th January 2015 at the Red Brick Building.
If you would like help from a Growing Mentor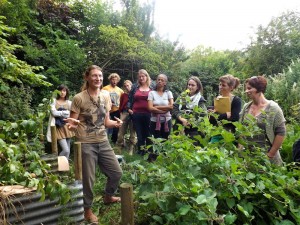 To help get you started with food growing, your mentor will share their knowledge and experience, so that you can make the most of your growing space throughout the year. You can also come along to a weekly Gardening Club in Glastonbury and participate in regular skills-sharing events and workshops organized by Feed Avalon.
FREE Gardening Clubs
Growing Glastonbury will be offering weekly 2-hour growing sessions, one for women growers and the other will be in the Windmill Hill area. Sessions will be free and informal, with the aim that participants attend regularly to build up their skills, knowledge and confidence growing food. No previous experience is needed, just a willingness to get hand's on with support and guidance from a member of the Feed Avalon team. Let us know if you are interested in joining (link to expression of interest form here).