Feed Avalon is a Community Interest Company. We are a company limited by guarantee but our aim is to carry out activities that fulfil a community purpose. We have a lock on our assets, which means all assets must be used for the community purpose. They can be transferred to another asset-locked body or if sold, the proceeds need to be used for the community purpose.
We organise as a workers co-operative as we feel this is the most democratic, empowering structure, however our assets and profits stay for and within the community.
How do we organise ourselves?
Feed Avalon is a Workers Cooperative. This means we are managed co-operatively by our members. Members include both paid workers and people that wish to be part of Feed Avalon as a volunteer. We feel we are most effective if those involved in the project play a key role in Feed Avalon's strategy and development.
After one year of working with Feed Avalon, workers can apply to become Directors as part of the Workers Co-operative. This probationary period allows us to build trust and stronger relationships.
Workers must be members of the Cooperative and volunteers can apply to become members. If this interests you please read some of our information about it here, including our application form.
Feed Avalon is committed to maintaining its autonomy and independence and empowering members and other stakeholders at the most local level possible. Over the long term we aim to support new social enterprises to start that share Feed Avalon's aims, so that they can retain optimum democratic and effective decision making and worker control of their work. We do not intend to become a local all encompassing corporation!
We are committed to the education of our members in cooperative working and in supporting education in the wider community.
We are committed to making decisions by consensus, which means we try to find solutions that all members actively support, or at the very least, can live with.
We are committed to undertaking meaningful work. We also recognise that people work best when they are following their passions and interests, therefore we do support workers to focus on specialised roles. These officers then become legally responsible for their area of work. They can self-organise into working groups of other workers (paid or volunteers) and then feedback to other working groups at Feed Avalon CIC meetings.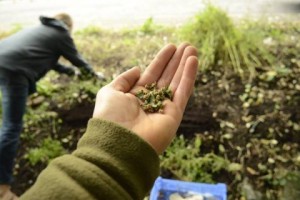 We are committed to every worker having soil time, which means practical, hands-on time producing food, whether that's through installing P.E.Gs or weeding in the community garden. (See an article about the idea of national gardening leave here).
We also encourage all workers to be resilient and recommend that workers have at least two other independent sources of income to reduce dependency on Feed Avalon. All workers currently work part time to allow for this, as well as support a working-life balance that cultivates wellbeing.