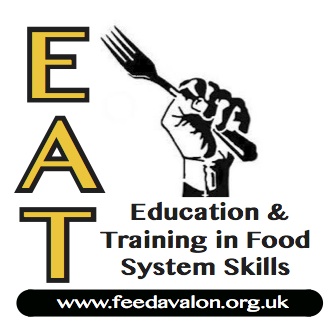 The EAT Project is Feed Avalon's Education and Training in Food System skills popular education initiative.
We organise courses, workshops, skill-shares and events to support all of us gain the skills to reclaim our food system.
We organise community-based learning to support local communities in Glastonbury and Street to gain the skills, confidence and opportunities to engage in the production, distribution and consumption of local food that is healthier, more sustainable and rooted in social justice.
Our courses are participatory, practical and political in nature. We are working for social change and always aim to link practical skills with the bigger picture. We aim to organise educational opportunities that are accessible.
Somerset Skills and Learning kindly fund a number of courses and opportunities. We also organise private paying courses as a cooperative to help generate a surplus income that we can re-invest in our grassroots work.
The EAT Project is coordinated by Nicole Vosper. We regularly work with external tutors, if you are interested in facilitating a course or workshop for us, please get in touch. For any course enquiries or project information please email nicole@feedavalon.org.uk
Taking place in 2016:
Past Courses
Below are past courses that are likely to be organised again. Contact us with your potential interest & we'll do our best to make them happen: